Quick & User-Friendly Text Translator
Whether you're an avid traveler, working abroad, or learning a new language, our text-to-speech language translator gives you the power to understand the world.
Speak into the mic or type something using the digital keyboard. You'll get an instant text-to-speech translation within seconds.
The Vasco Translator is the most accurate text-to-voice translator on the market, combining the power of 10 different language engines to give you results with up to 96% accuracy.
Understand words and phrases
Comfortable digital keyboard and speech recognition
Powerful language-learning tool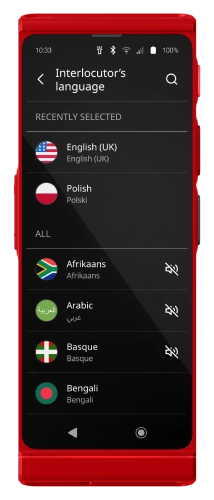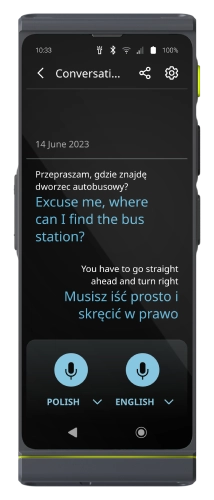 Save on roaming-fees abroad
Text translation services require data or an Internet connection, and fees can add up quickly when you're abroad.
Vasco devices are equipped with a built-in SIM card that automatically connects you to available networks in nearly 200 countries at no additional cost. Forever.
Forget about Internet costs for text translation & other features
No data subscription needed
Constant connectivity in nearly 200 countries
Text-to-speech translation and silent mode
Our Text Translator combines the power of 10 language engines — 9 more than most translators on the market.
With Vasco, you can be sure you're getting the most accurate translations, so you're always communicating clearly.
96% translation accuracy, even for less common languages
10 engines offering most optimal translation results
Learn new vocabulary in the process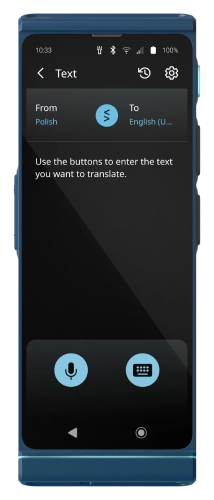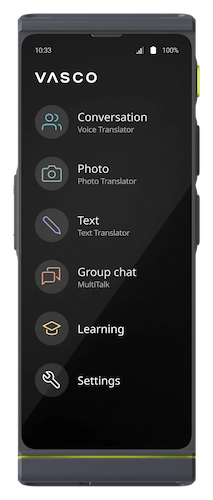 Text translation for 90 languages
The Vasco text-to-speech language translator can help you understand the world, even the places where less common languages are spoken.
With this handheld translator, you'll have the freedom to travel anywhere, and feel confident while doing it. The device combines the power of multiple language databases, ensuring up to 96% accuracy.
Understand text in 90 languages
Learn proper pronunciation
Discover new vocabulary and helpful phrases
More than a Text Translator
When you don't have the words, the Vasco text-to-voice translator is there to help.
Whether you need to ask for directions, explain a food allergy, or request a hotel service, this language translation device will help you get what you need, no matter where you are. It's more than just a text translator:
Speech Translator: Understand and speak 76 languages
Photo Translator: Understand 108 languages with the built-in camera image translator
Phone Call Translator: Understand and speak with your caller
Chat translator: Multilingual chats chats are translated automatically