Connect with Friends and Colleagues Worldwide
Are language barriers holding you back from communicating with people at work? Do you want to connect more deeply with friends from abroad? MultiTalk is the answer!
With our multilingual chat application, you can chat in different languages. Messages are translated in real-time, so conversations flow naturally.
Create a multilingual chat with up to 100 users
Send the QR code or the conversation name for guests to join
Choose your preferred language and chat with automatic translation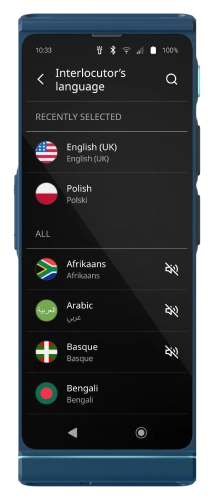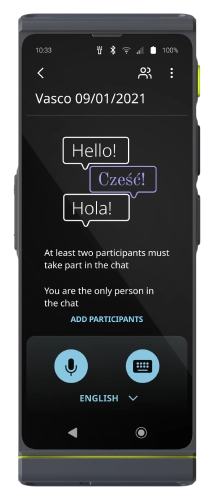 Intuitive, easy-to-use multilingual chat translator
MultiTalk makes chatting in different languages simple. Start by creating a chat, choose a name, then invite people to join. Guests join the chat via QR code or group name.
They select their preferred language and the conversation begins. Everyone can chat in different languages by speaking or typing their messages, which are automatically translated for each recipient.
Real-time chat with translation in different languages
Vocal and text translations in everyone's preferred language
Intuitive multilingual chat app that's easy-to-use
Reliable & Accurate Chat with Instant Translation
Our multilingual chat application has the power of 10 translation engines, offering you the most accurate results, every time.
Language barriers are instantly bridged, ensuring a smooth and natural group conversation with accurate translations for everyone.
Automatic translation with up to 96% accuracy
High quality even for less common language pairs
Bridge the language gaps with this multilingual chat translator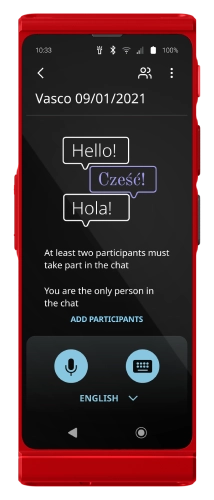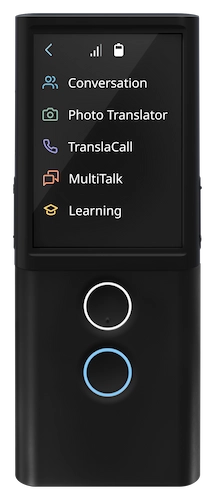 Text in Any Language, Wherever You Are
MultiTalk is available both on a Vasco Translator M3 & V4, but you can also get the app from Google Play and AppStore. Just like any other of our devices, it comes with a built-in SIM card that connects with the Internet in nearly 200 countries. It's free, unlimited and lasts for a lifetime!
The Vasco translation device is a great investment for all of your multilingual communication, business trips and travels abroad. Forget about expensive roaming charges!
Enjoy unlimited lifetime connectivity in nearly 200 countries
Save on roaming fees abroad
Connect with people from all around the world
More than a multilingual chat translator
The ability to chat in different languages is a big benefit, helping you communicate easily with multilingual friends and coworkers. But Vasco Translators offer much more.
With Vasco, you can understand over 90% of the world's population. In addition to the multilingual chat translator, we provide several useful features to help you work and travel when language presents an obstacle.
We'll help you feel like a local, wherever you go!
Speech Translator
Photo Translator
Text Translator
Phone call Translator