Finding the perfect gift can often be a daunting task. It's a challenge that many of us face, especially during the holiday season or on special occasions like getting a birthday gift or spending anniversaries.
Whether it's searching for Christmas gifts for parents, picking a unique birthday gift, or considering what electronic gadgets for a gift would make someone's life easier, the hunt for the "best gift" is universal.
Enter Vasco Translators—the innovative, functional, and incredibly thoughtful gift idea that everyone will appreciate.
In this extended article, we'll be discussing:
Why Vasco Translators Are the Perfect Gift: From its broad language support to speed and efficiency, Vasco offers features that make it the best electronic gift for your loved ones.
Use-Cases for Vasco Translators: Whether it's a gift for a traveler, a business professional, a student, or anyone who interacts in a multicultural environment, Vasco fits the bill.
Comparing Vasco Translator V4 and M3: Learn which model could be the best gift for someone traveling abroad or the ideal electronic gift ideas for your spouse.
How to Purchase and Special Holiday Deals: Tips on where to get your Vasco Translators and how to benefit from special deals, making it a cost-effective gift for Christmas or any other occasion.
So, if you're keen on tech gifts or something for frequent travelers, look no further. Instant Translator is the perfect electronic Valentine's gift, electronic gift for mom, electronic gift for him and an electronic for women. Let's see exactly why.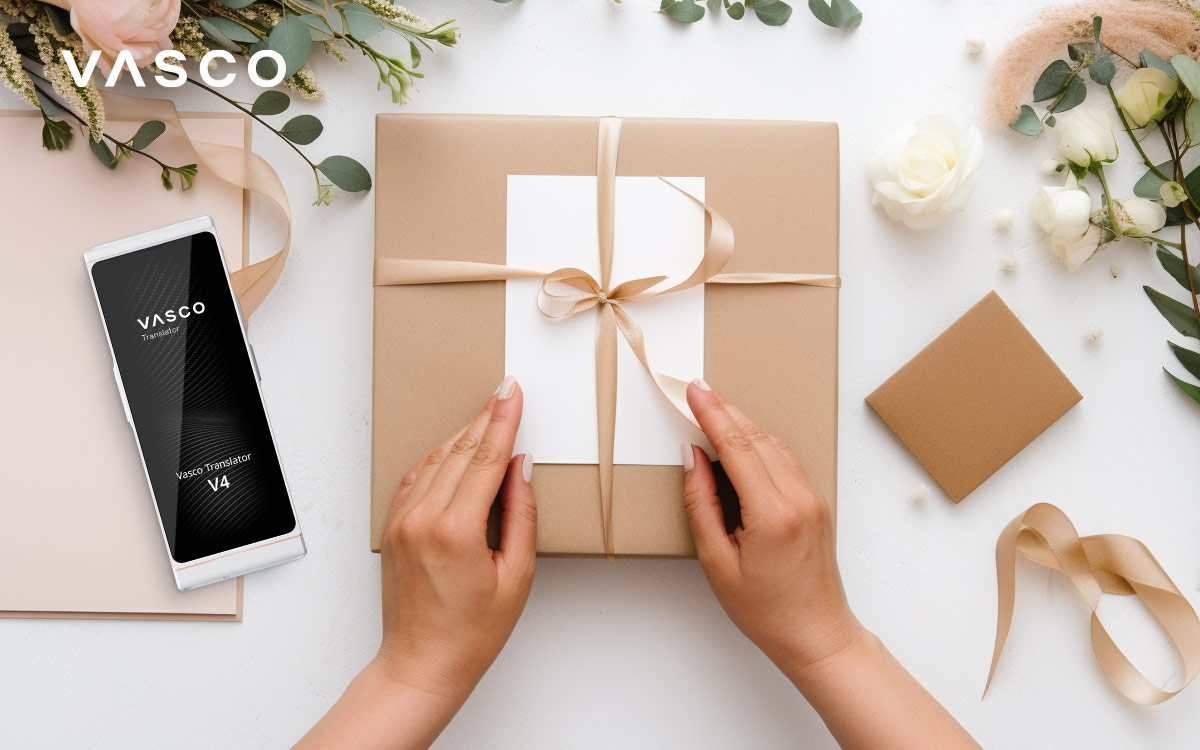 The Ultimate Struggle of the 'Great Gift'
What should I give my dad for Christmas? What gift should I give to my grandfather?
These questions can be really troublesome when thinking on the great gift. So how to make sure our closed ones are satisfied.
In the times of smart home devices and all-present mobile devices, the electronic gift gadgets become more and more popular.
But how to make our gift recipient happy? In the end, they've seen it all. Digital photo frames, wireless earbuds, a digital camera… Each of them is a fantastic gift, for sure, but overdone to the beat.
Instead of going through yet again repeatable gift list, we have one recommendation that will make for a both useful and glamorous gift.
A few words on Vasco Translator
We present Vasco Translator V4, a great gift for tech lovers and frequent travelers.
This handheld device will translate up to 108 languages, all that while being water resistant, having high translation sound quality & great battery life.
But that's not nearly all. Check why every gadget lover will want to recommend it to their friends. Or why each frequent traveler will want to have this in their hotel room!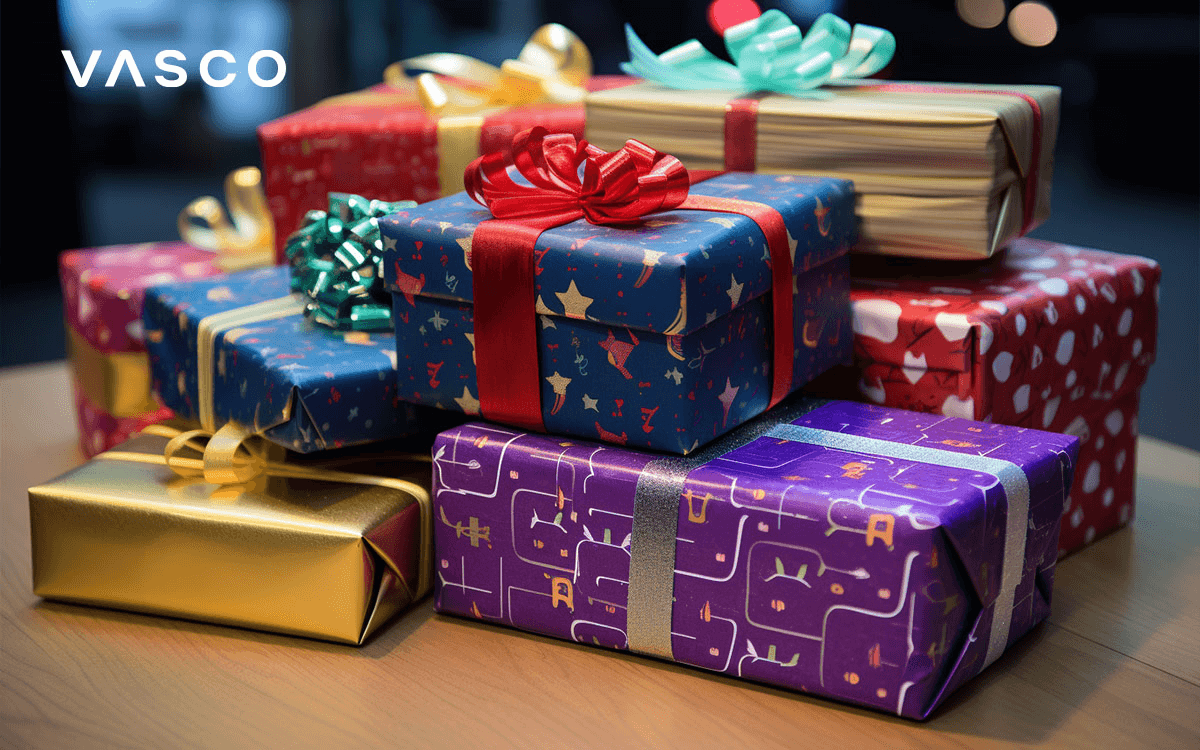 Why Vasco Translators Are the Perfect Electronic Xmas Gift Ideas
Broad Language Support
If you've ever wondered what to gift a travel lover with, look no further. Vasco Translator V4 is like a modern-day Tower of Babel in your pocket, supporting an astounding 108 languages for photo translator, 76 for speech, and 90 for text translation. The Vasco Translator M3, also offers robust language support, with 76 languages for both speech and photo translation. These features make Vasco Translator perfect as a gift for Christmas or even as a gift for Father's Day for the dad who loves to explore new cultures.
Speed and Efficiency
Imagine finding yourself in a foreign country, trying to ask for directions, but facing a language barrier. Speed is of the essence, and the Vasco Translator delivers just that. With a translation time of approximately 0.5 seconds, this gadget is a lifesaver. It's a fantastic birthday gift idea and could be the best gift for someone traveling abroad or frequently engaging in international interactions.
Free Internet
The struggle with data plans and roaming charges when traveling is real. Both the Vasco Translator V4 and M3 come with free, unlimited Internet access for translations. The convenience that this offers cannot be overstated. It's a revolutionary feature that makes it an ideal gift for Mother's Day for the tech-savvy mom, or as Christmas gifts for parents who love to travel.
Additional Features: The Icing on the Cake
What makes Vasco Translator V4 even more appealing as a gift for dad on his birthday or as a unique gift for any occasion is its additional features: a large 5-inch display, robust speakers, and durability against shocks and water splashes. The Vasco Translator M3 scores on elegance and 96% translation accuracy, making it a beautiful electronic gift for women who value both form and function.
Use-Cases for Vasco Translators: More Than Just Words
When you think of a translator device, you might be quick to pigeonhole it as a gift for a traveler or someone with international business connections. But the utility of Vasco Translators goes far beyond that. Let's dive deeper into the multiple ways that Vasco can enhance the lives of its users, making it a truly versatile and cherished gift.
Best Gift for Someone Travelling Abroad
Imagine a traveler traversing through remote villages in Asia or exploring ancient ruins in South America. Language barriers can not only ruin travel plans but also create stressful situations. With Vasco Translator's speedy and accurate translations, explorers can navigate any culture with ease. It's not just a gift for a traveler; it's a passport to seamless global adventures.
For the Jet-Setting Business Professional
Do you have a loved one constantly hopping between time zones for work? Conference calls in Tokyo today and a business presentation in Paris tomorrow? Vasco is not just an electronic gift for men engrossed in international dealings; it's also for women who are taking the business world by storm. With translation services available in up to 108 languages, Vasco Translators act as a virtual personal assistant, breaking down language barriers in professional settings.
For the Ever-Curious Student and Academic
Students embarking on exchange programs or involved in international research can find themselves lost in translation. Academic papers, research articles, and even simple interactions with international peers can present challenges. Here's where Vasco steps in as an academic lifeline, providing text, photo & speech translator in a myriad of languages. Vasco Translator aren't just electronic gadgets for gift. It's an investment in one's education!
For the Dedicated Healthcare Professional
Think about nurses, doctors, and healthcare providers who serve a multicultural patient demographic. How much easier would their job be if they could communicate seamlessly with every patient, irrespective of language? Vasco Translator makes this possible, qualifying as a thoughtful gift for Father's Day or Mother's Day, for parents in healthcare. It ensures that quality care transcends language barriers. It's also a perfect electronic gift for a husband or wife that works abroad!
For the Diligent Retail and Customer Service Employees
A universal translator is perfect for those in retail or customer service, particularly in tourist-heavy or multicultural areas. Imagine a restaurant server being able to understand complex dietary restrictions expressed in a foreign language, or a retail associate helping a non-English speaker find the perfect gift for their spouse. Vasco Translator enables these interactions, making it a practical and unique gift for a wide range of occupations.
For the Social Butterfly in Multicultural Communities
Living in a multicultural community means weekend potlucks with international neighbors and heartwarming conversations in multiple languages. From sharing recipes to discussing local politics, language should never be a barrier in forming community bonds. Get the best electronic gift for wife or husband that comes from abroad for their next neighborhood get-together. Watch them become the life of the party!
For the Creative Photographer and Travel Blogger
If capturing the world through a lens or writing travel blogs is a passion for someone you know, Vasco can be their perfect companion. Whether it's asking for permissions in a foreign country to take a photograph or understanding local customs for an authentic blog post, Vasco offers solutions. It's a best electronic gift for husband or wife who are content creators.
For Elderly Parents and Grandparents
As our parents and grandparents age, many love the idea of traveling but are daunted by language barriers. Whether it's an anniversary gift for your mom and dad or a thoughtful gesture to encourage your grandparents to take that dream cruise, Vasco Translator is the safety net they'll appreciate.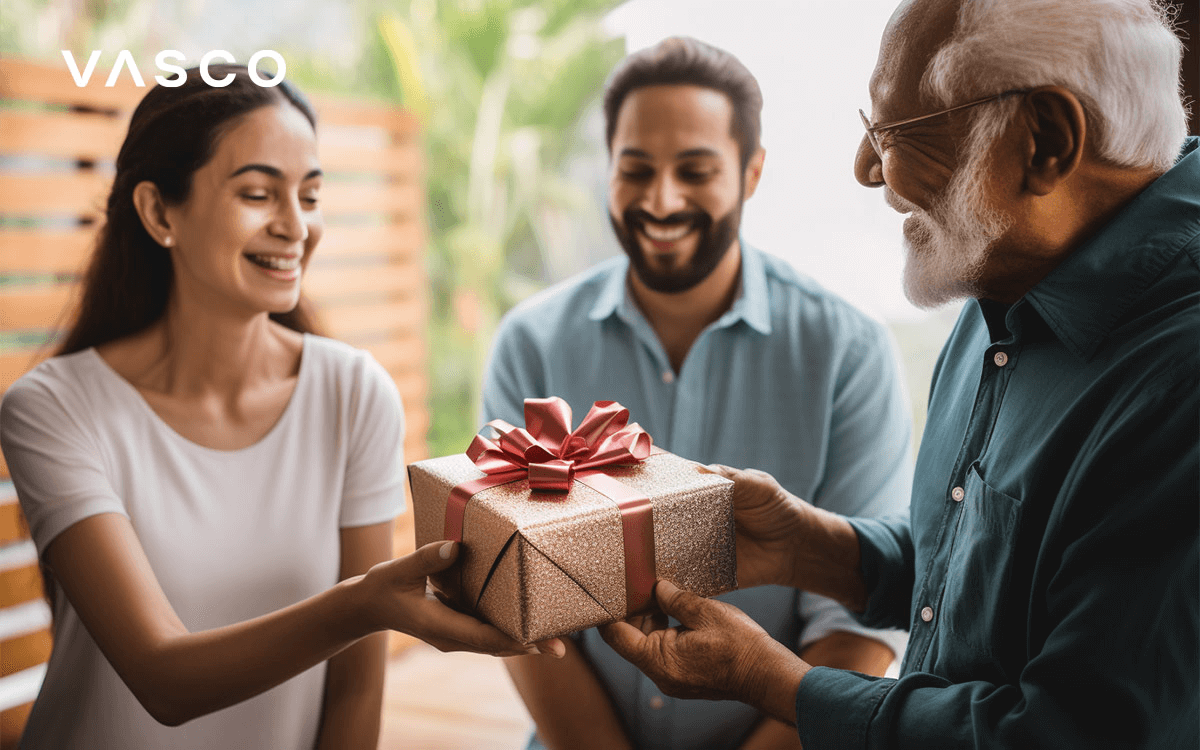 Conclusion
From the young adventurer to the seasoned professional, the ardent academic to the dedicated healthcare worker, Vasco Translators offer something for everyone. They aren't just an electronic gift ideas; they're a gift of connection, understanding, and endless possibilities.
Whether you're searching for Christmas gifts for parents or pondering what gift you should give to your mom and dad on their anniversary, Vasco Translators stand as a beacon of utility and thoughtfulness. With Vasco, you're not just giving a device; you're giving the gift of seamless communication in a beautifully connected world.
In the Nutshell
The Vasco Translator is an ideal, versatile gift suitable for parents, travelers, business professionals, students, and individuals in multicultural environments. This device offers quick and efficient translation in 108 languages, ensuring ease of use in various scenarios, from traveling to international business meetings. Notable features include free internet access for translations, durable construction, and superior sound quality, making it a practical and innovative tool for simplifying cross-cultural communication. Its versatility extends beyond being a mere electronic gadget, standing out as a gift that genuinely improves lives, connects people, and unlocks new opportunities by overcoming language barriers.
FAQ:
What makes Vasco Translators a suitable gift for a wide range of individuals, from business professionals to students?
Vasco Translators are versatile devices offering quick and efficient translation in 108 languages, facilitating seamless communication in various scenarios. Their ease of use, durability, superior sound quality, and free internet access for translations make them practical for business meetings, travel, academic research, and social interactions in multicultural environments.
How do Vasco Translators enhance the travel experience, particularly in remote or culturally diverse regions?
For travelers,
Vasco
Translators break down language barriers, enabling them to navigate unfamiliar environments more confidently. The device's speedy translations help explorers interact with local communities, understand cultural nuances, ask for directions, and handle emergency situations, making it an indispensable travel companion.
Aside from its primary translation function, what additional features of Vasco Translators contribute to their appeal as a thoughtful gift?
Beyond efficient language translation, Vasco Translators boast features like a large 5-inch display, robust speakers, and resistance to water splashes and shocks for enhanced durability. Also, models like the Vasco M3 stand out for their elegance and high translation accuracy, appealing to users who value both form and function.
Similar Posts: